Registration is now closed
So, you're engaged to be married? Congratulations!! I'm so excited for you!
Guess what... I just got married! Oh happy day for US!
I don't believe in coincidences, so let's create some wedding magic.
Imagine this:
What would it be like to rock wedding planning with less stress and clearer energy?
How would it feel to wake up on your wedding day looking toned, glowing and totally confident?
How would it feel to enter marriage being soulfully fulfilled, refreshed and blissed out?
Introducing Wedding Ready Woman: a twelve-week online wellness program made exclusively for brides who want to shape up their bodies, de-stress their lives, and revel in the soul-enriching, confidence-boosting, can't-stop-smiling energy that comes from Natural foods.
I'm Clare Ramirez ('til recently I was Clare Edwards-- wow!), founder of Wildflower Medicine. I LOVE helping women transform their lives by reconnecting with nature's bounty. My work combines my training and certification in integrative nutrition health coaching, herbalism, and yoga + meditation to deliver comprehensive programs for women who want to clean up their diets and revamp their lives.
Wedding Ready Woman focuses on healthy eating, smart exercise, stress relief and skin care/ lifestyle hacks to upgrade the lives of brides-to-be. The program is wedding oriented (let's get organized, feel good, and look great-- in a real time frame!), but really it applies for the rest of your life.
Happily ever after starts now.
"My skin rash cleared up and my body feels energized!"

"Working with Clare is beautiful and empowering! She is prompt, thorough, and intelligent on many different levels. After integrating her suggestions, my skin rash cleared up and my body feels energized! My digestion has healed to a point where all foods don't make me feel sick, and now I know which foods my body doesn't particularly like. Beyond grateful for this being of light!"
-Jacqueline K., Santa Barbara, CA
What You'll Learn:
Food Philosophy
A crash course in what to eat and why

Diet spectrum for the natural woman (this is a game changer!)

F*** the food pyramid (and other myths that are bogging you down)

Intro to gut health (the root of it all!)

Natural, healthy weight loss (drop 5-15 lbs without feeling hangry)

Clean phats vs crappy fats

How to reverse stomach bloat

Reading labels the right way

Food sensitivities (and the connection to weight loss & clear skin)

How to food prep your way to a healthier lifestyle

Spoiler alert: NO calorie counting, rampant hunger or boring food (can I get a woot woot?)
Smart Exercise
Natural, enjoyable movement (WAY simpler than you think)

Strength training (toned arms and back anyone?)

High Intensity Interval Training (your secret weapon to burn fat and optimally express genes)

No more chronic cardio or endless hours at the gym (maximum results with minimum effort).

Tips for fitting in exercise throughout your busy day
Blessed Not Stressed
Intro to simple meditation (fun how to's + a beginner plan)

Perceptions of stress (shift your perception to change your life)

How stress affects body composition (and what to do about it)

My top relaxation techniques to keep you a bridechilla

Adaptogens and other plant allies for stress management

Breath work exercise videos
Sleep and Supplements
Hacks for restful beauty sleep (muy importante!)

How to make your own "Aurora environment"

Top recommended supplements for glowing brides
Skin Health
Clear skin starts within

Skin-friendly fats and oils

Dry brushing for glowing skin

Natural body products

How to do a bathroom detox

DIY face and body masks

At home beauty prep that actually increases your health!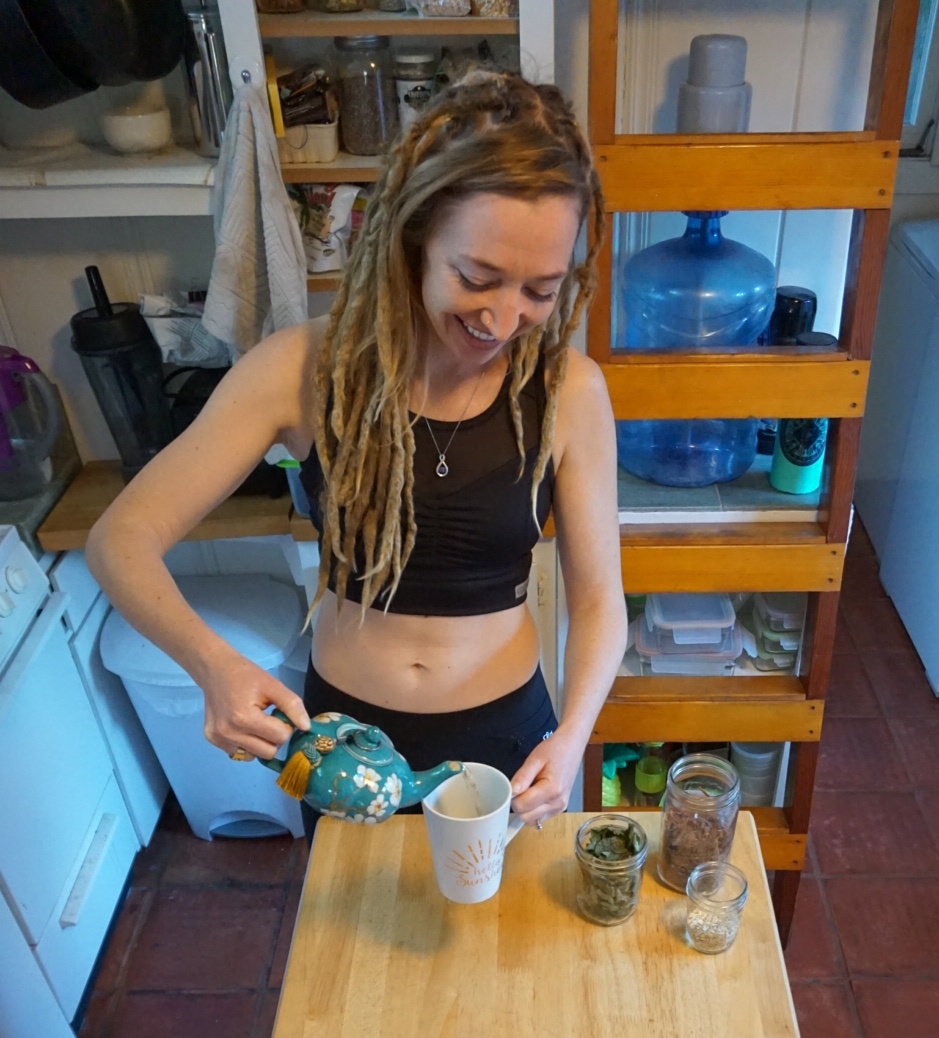 "I HIGHLY recommend Wildflower Medicine if you are coping with stress."

"Wildflower Medicine has changed my life. I continue to be impressed daily by how well I feel and how I am able to manage the stressors of my life. I have gained insight not only into quantifiable behaviors (like nutrition, exercise, and sleep), but also insight into my perceptions (of stress, others, and myself). I HIGHLY recommend Wildflower Medicine if you are coping with stress... or just want to improve your day-to-day functioning and enjoyment of life!"
-Jay C, Oakland, CA
What You'll Receive
-Five 1-hour video sessions (one released every 2-3 weeks) sharing foundational concepts and exact steps needed to reach your wedding goals (plus 24/7 access for 9 months so you can take the course on your time & re-watch whenever)
-Weekly emails (sent every Monday) with supplemental info and action steps like lifestyle hacks, recipes, and shopping lists to keep you moving forward
-One private 45-minute phone session with Clare for personalized care (optional and lot's of fun!)
-Email support in between sessions (you can reach out to me anytime!)
-Exclusive access to private Facebook group to connect with other like-minded brides (post photos, share wedding resources, ask questions, get inspired and feel support in our quest to kick ass!)
Hear what past Brides are saying…
"I lost 10 lbs and my skin was perfect."

"I lost a little over 10 lbs. And while I was in the shred my skin was perfect! I was very happy with these results! My biggest challenge is making time for self-care and not feeling guilty about what else I could be doing. I know how important self-care is, not only from healthy meals (meal prep is a saving grace!) to daily rituals, and how much I benefit. Clare's videos and emails on simple daily rituals, like the skin brushing and the journaling, have been excellent reminders on how it only takes a little bit of effort."

-Lauren C., Issaquah, WA




"Knowing there's a community of women in the same boat is the perfect motivator. "

"I've never been much for planning a wedding (my family had a wedding business when I was younger, so I feel like I've seen it all!), but I never realized how much stress planning a wedding could add to my daily juggle of stress and time management. It can be exhausting, and Clare's insights have been instrumental in reminding me how to take it day by day, with self-care and knowing there's a community of women in the same boat is the perfect motivator."

-Sydney H., Littleton, CO
Additional benefits:
-Gain confidence. Feel confident about your big day… starting now! I originally created this program for myself because I refused to let my good habits and intentions get swept under the rug with busy wedding planning. I wanted to feel 100% CONFIDENT that I would look and feel the way I wanted to on my big day. Now, I can offer this confidence to you too!
-Stay consistent. Have you ever had a diet or fitness goal that you were super stoked on... and then your efforts lasted all of two seconds? Yeaaa, we've all been there! But now there's no time for playing around-- the countdown is on! That's why this program provides sustained guidance and real accountability. I will be your personal cheerleader the whole time, and eventually making consistent healthy choices will be second nature to you.
-Save money (in the long run-- a LOT of money). Did you know that diet and lifestyle-related illnesses account for 75% of US healthcare costs? Holy guacamole! This is crazy and people are starting to wake up to real food reality. I'll teach you how to live healthy on a budget so you can save some dollars now, and save a ton of money (and maybe even your life!) in the future. This may be the best investment you'll ever make— your health is that important— and it all starts with diet & lifestyle.
-Hit your wedding goals, and maintain them. This is not just about "shredding for the wedding," so we can look a certain way for a day. Sustainable weight loss and glowing skin are pretty cool natural side effects! But this is about getting truly healthy from the inside out. The advice I offer is rock solid and sustainable for the rest of your life. If you follow the advice laid down in this plan, you'll be on track for years to come.
Use this pivotal time in your life to spring into action! Set down a healthy foundation. Honor yourself and your coming marriage by embodying your best self possible.


"I have more energy and sleep better, lost weight, less stress, and improved intuition."

Clare truly believes in supporting people on their journeys toward their individual definitions of health. She does not promote one type of diet or exercise or anything above all others. This made me feel empowered to make changes and try new things rather than shamed into them. These days, I feel lighter than I ever have––both physically and mentally; I have more energy and sleep better; I have lost weight, which was not my intention but rather a side effect of better diet for my body's needs, less stress, and generally improved intuition around what makes me feel good and what doesn't. I can genuinely say that Clare changed my life––not only physically, but emotionally, mentally, and spiritually. I have no doubt there was some universe mama magic involved in my finding her. I have so much respect for the work she does and love for the person she is and has helped me become. I highly recommend her to anyone looking for a lifelong change."

-Zoe S., Portland OR
This program is right for you if you:
-Are gettin hitched and want to make the absolute most out of your wedding experience (and honeymoon and beyond)!
-Are open to trying new foods and eating strategies
-Maybe want to lose a few pounds of excess body fat and increase muscle tone (not necessary but a common goal for brides-to-be)
-Are willing to release joy-killing, anxiety-producing, damn-you-Pinterest!, over-the-top wedding expectations. Hooray, we don't have to be perfect!
-Are open to trying meditation and other relaxation techniques for proactive stress management
-Are willing to cook at home and embrace food prep like a new sister-in-law
-Want to get in touch with your natural, wild bride side
This program is not right for brides-to-be who:
-Aren't willing to put in the personal work-- ultimately the results are up to you
-Roll their eyes at remotely "woo woo stuff" (mental, emotional and spiritual wellbeing are every bit as important as physical fitness-- sorry not sorry)
-Expect to lose 30 pounds in our time together. You may very well shed 5-15 lbs in our twelve weeks, but this is not an extreme diet program. Rather you will lose a healthy, natural amount of body fat and can keep up with your new eating and lifestyle habits to continue moving toward your ideal body composition after completion of the program (this is a longterm lifestyle!)
How this program works:
Program duration is January 14 - April 8, 2019 (12 weeks).
Program materials are sent to your email inbox every Monday morning (I love making things easy!).
Video sessions are released every 2-4 weeks-- specifically— Jan 14, Jan 28, Feb 25, Mar 18, and Apr 8. Simply click links in email to view videos on our Vimeo page. Videos are accessible 24/7 so you can watch (and rewatch) anytime convenient for you. No worries if you travel or have a busy schedule at times (what bride doesn't!?).
I encourage going through the course in "real time" (keeping up with weekly material) for fastest results and to ride the group energy wave! It's super fun! AND you'll also have access to all video materials through October 1, 2019, so you can revisit the course anytime you like.
Receive your private 45-minute phone session with Clare mid-way through the program for a personal check-in to ask questions, brainstorm any tweaks to your personal plan, and make sure you are on track to reach your goals (option to receive session at start of program).
Weekly emails and prompts posted in our private Facebook group keep you engaged and accountable (participation in FB group is totally optional but highly recommended. This is a great space for motivation, sharing wins, and gettin your wedding countdown groove on).
This program is completely virtual and sent straight to your inbox (translation: super convenient-- you can do it anywhere with Internet access).
Got a question? Check out my FAQ section or submit a question here.
"Clare is loving, devoted, bubbly, and calm all at the same time, and it's infectious. Her loving spirit helped guide me through a journey where I took control of my body, and now I'm never letting go. I could not have done this on my own and I'm thankful Clare could be my guide."
-Kami B., Santa Cruz, CA
100% Risk Free Guarantee
Try Wedding Ready Woman with no risk. If after the first three weeks you feel like the program isn't right for you (for any reason), I'll send you a 100% refund. We can still be friends. I'm confident in this program AND I want to ensure it's right for you (and you totally love it). This is my win-win policy so we both feel confident with your investment.
registration is now CLOSED